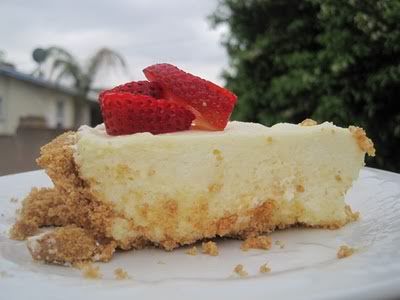 Made Famous By: Heather McMullin

I love going to cooking classes. One that I went to a while ago had a class on pies.

Oh do I need help in that department. One of my goals in life is to make

pies like my Grandma Scott did. Each kind of pie holds a special memory for me.

So pie by pie I come close to my goal!

This recipe is from Penny. She taught the class I took on pies and has a wonderful pie busisness.

Her web site is http://www.pennyspies.com/

Enjoy!!
Filling:
1 Tbsp. gelatin
3/4 cup Baker's sugar
pinch of salt
4 egg yolks
1/2 cup fresh squeezed lemon juice
1/4 cup water
1 tsp. lemon zest
2 Tbsp. cold unsalted butter
For Whipped Cream:
2 cups heavy cream
½ cup Baker's or Confectioner's Sugar
This recipe is for an Emile Henry™ 8 inch deep dish pie dish or a standard 9 inch pie dish. Make 1 ½ times this recipe for Emile Henry 9" deep pie dish.
In a non-reactive saucepan (Stainless Steel or Pyrex - NOT aluminum, copper or cast iron) thoroughly mix gelatin, sugar and salt. Whisk in the egg yolks. Gradually add lemon juice and water until well blended. Let stand one minute to allow gelatin to bloom.
Cook over medium heat, stirring constantly, until mixture just starts to boil. Remove from heat. Add butter and lemon zest.
Pour into a 2 quart glass (or other non-reactive material) bowl and place in refrigerator. Stir every 15 minutes with a wooden spoon, until the filling mounds when poured from spoon - about 45 minutes.
NOTE: The filling can start to solidify very quickly beyond the point where it mounds from the spoon, so be sure to stir and check the filling more often as it cools. If it goes past 'mounds' and solidifies, whisk until smooth and creamy and immediately make and fold in the whipped cream.
After the filling has cooled about 40 minutes, make the whipped cream - in a bowl whip the cream with an electric mixer until it starts to thicken. Add sugar at this point and continue mixing until thick.
With a spatula, fold the whipped cream into the lemon filling. Pile into the Graham Cracker crust and refrigerate for at least 1 1/2 to 2 hours before serving. Optional - Garnish with a sprig of mint!

Graham Cracker Crust:
1 1/2 cup Graham Cracker crumbs (about 17 crackers, crushed)
2 Tbsp. Baker's sugar
6 Tbsp. melted unsalted butter.

Mix crumbs, sugar and butter and put into pie dish. Press crumb mixture evenly all around bottom and up sides of pie dish, using fingers or bottom of a sturdy measuring cup.
Bake at 350º for 10 - 15 minutes until crumbs are brown around pie crust edge. Remove from oven and allow to cool before filling.