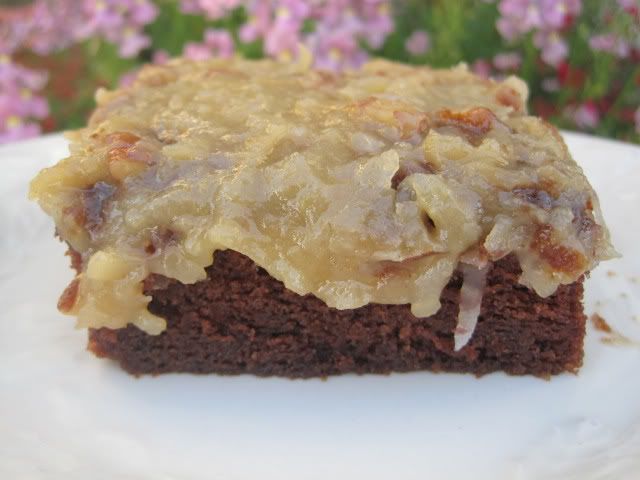 Made Famous By: Sue Eudis
Once upon a time before I ever met my husband other women fed him!
One of his best friends Mothers, Sue Eudis was one of those women.
She made this KILLER German Chocolate Cake that my husband would always tell me
about. When we were first married we took a trip to The Eudis's home and I got to
experience this KILLER German Chocolate Cake.
Love at first bite people!!!
Cade would always ask me to make Sue's cake. ALWAYS!
So I finally called her and unashamedly begged her for this recipe.
She said, "OH! It's on the back of the German Chocolate box."
Thank you Sue for letting me in on the secret. Although I don't think I will ever make it as
good as she does, perfection that is, I have tried and my family and I eat it up!
So enjoy lovers of German Chocolate! This is the best recipe I have ever tried for
German Chocolate Cake and believe you me, I have tried a lot of them.
It's a tough job, but someone has to do it!
1 pkg (4oz) Bakers's German's Sweet Chocolate
1/2 C Water
2 C Flour
1tsp Baking Soda
1/4 tsp Salt
1 C (2 sticks) Real Butter, softened
2 C Sugar
4 Eggs, separated
1 tsp Vanilla
1 C Buttermilk
Coconut-Pecan Filling and Frosting
Preheat oven to 350 Degrees. Cover bottoms of 3 (9-inch) round cake pan with wax paper; grease sides of pans. **I just used a 9x13 pan. It is easier.** Microwave chocolate and water in large microwaveable bowl on HIGH 1-1/2 to 2 min. or until chocolate is almost melted, stirring after 1 min. Stir until chocolate is completely melted.
Mix flour, baking soda and salt; set aside. Beat butter and sugar in large bowl with electric mixer on medium speed until light and fluffy. Add egg yolks, 1 at a time, beating well after each addition. Blend in melted chocolate and the vanilla. Add flour mixture alternately with the buttermilk, beating until well blended after each addition.
Beat egg whites in small bowl with electric mixer on high speed until stiff peaks form. Gently stir into batter. Pour evenly into prepared pans.
Bake 30min or until toothpick inserted in center comes out clean. Immediately run small metal spatula around cake layers. Cook in pans for 15 minutes; remove layers from pans to wire racks. Discard wax paper. Cool cake layers completely. Spread Coconut-Pecan Filling and frosting between cake layers and onto top of cake.
If you used a 9x13 pan cool cake completely and then pour frosting over top.

4 Egg Yolks
1 can (12oz) Evaporated Milk
1 1/2 tsp Vanilla
1 1/2 C Sugar
3/4 C (1 1/2 sticks) Real Butter
1 pkg. (7oz) Bakers' Angel Flake Coconut (about 2 2/3 Cups)
1 1/2 C Chopped Pecans
Beat egg yolks, milk and vanilla in large saucepan with wire whisk until well blended. Add sugar and butter; cook on medium heat 12 min or until thickened and golden brown, stirring constantly. Remove from heat.

Add coconut and nuts; mix will. Cool to desired spreading consistency.