Made Famous By: Heather McMullin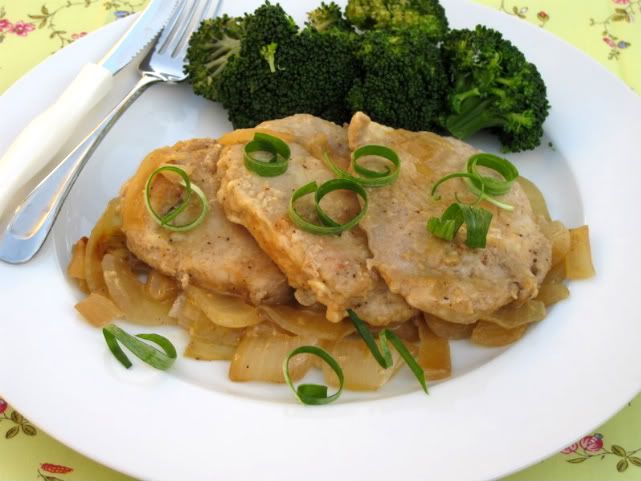 Today my family and I have re-entered the land of the living.
Thank my lucky stars. I was beginning to think I was going a little nutzo!
A week in your
house will do that to you. Anyone feel my pain?
Just in time to! My Cooking group is tonight and I am one of the people in charge.
It is one of my very most favorite things to do. My outlet.
Our theme tonight is pizza! Fun, different, delicious pizza.
Look for a ton of new recipes next week.....my mouth is watering just thinking about
the amounts of delicious food I am going to pile into my mouth!!!!!
The inspiration for these pork chops came from my brother Bryan.
He makes the most incredible smoked pork butt in the entire world. He has a smoker
and he smokes it for hours on end. Giving that pork butt lots of tender smoky love.
We request it frequently and I think most of the family has dreams about it.
The Sugar Maple Rub that I use for this pork chop recipe is the same magic he uses for his smoked pork. It is my quick fix when I crave his pork.
Get your taste buds ready friends!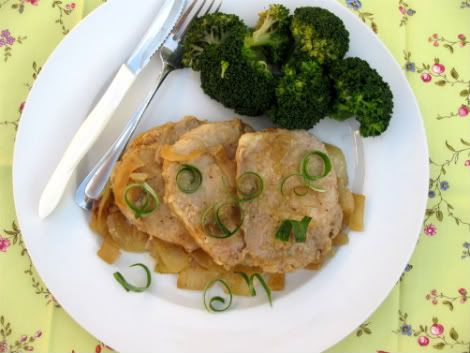 1 Large Sweet Onion, sliced
1. Mix the flour and sugar maple seasoning in a shallow dish. Dredge the pork chops in the flour mixture.
**You can skip this part and just sprinkle the pork chops with the Sugar maple rub to make a healthy version of this recipe.**
2. Heat the olive oil and butter in a pan. Once the pan is warm, turn the temperature down to medium low. The best and only way to get a tender, juicy pork chop is to cook it slow and at a low temp with a lid on. Slow and Low my friends. Once the top of the pork chops is not pink any more flip them immediately. The second side takes about 1/2 as much time so watch them carefully. If they cook to much they become tough.
3. Take the pork chops out, sprinkle them with more of the Sugar Maple rub and put them on a dish then cover it with foil.
4. Put the sliced onion in the pan with the pork chop drippings. Sprinkle about 2 TB of the Sugar Maple Rub on them and cook until soft and tender.
5. Serve each plate with a pork chop and some onions.
We also like to dip ours in Apple sauce. You know pork chops and apple sauce always goes together.