I have been in my house for 7. Days. Straight.
Yikes! Will the sicky bugs please go away and never come again!!
Please for my sanity. I feel like someone has been sick since December. Does anyone else feel like this? Most of the days my kids were sick I was feeling great.
Then 3 days ago I got sick.
Mommies are not allowed to get sick. Never!
Today I am feeling sick, but much better than yesterday.
I looked and felt like death yesterday.
Strep Throat will do that to you. Thank goodness for Z packs and a husband that got home early from work, cleaned up the house, made dinner, bathed the kids, and then put the
kids to bed so I could sleep. He is amazing!!
Even though it has been hard to be stuck at home I got to thinking of what a blessing it is to be a Mom. Even in the stinky, sick, trenches of Motherhood, joy can be found.
Like this for example.
My little sweetie is our cherry on top and all she wants when she is sick is snuggles.
As her Mom I can do that and make her feel all better.
Her cheeks get so rosy when she is sick and I think it makes her look even prettier.
Then you have our biggest boy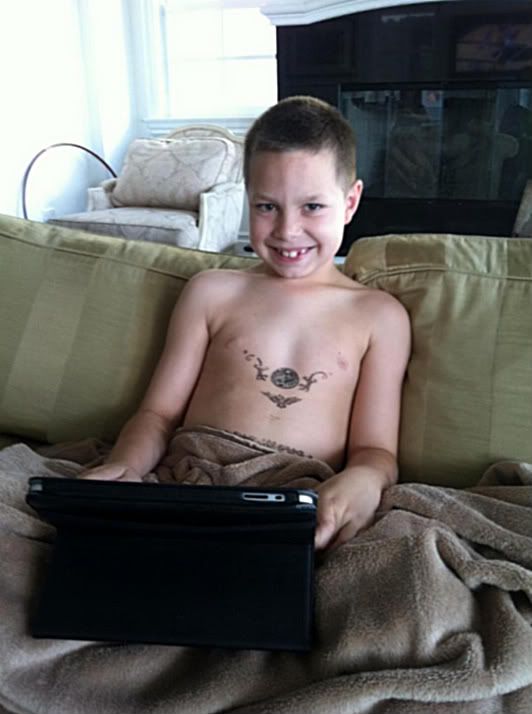 You can't tell in the picture, but he has strep throat and doesn't feel good at all. Lucky for him he came down with it while he as staying at Grandma and Grandpa's house. Lucky boy. Our middle guy had a fever for 6 days. I didn't get a pic of him, but he would just lay there sweet as can be with his blinky eyes. Such a trooper.
Even though the trenches of Motherhood require a lot of work I am thankful that I
can take care of these three little people.
My world would not be as bright and beautiful with out them.
"The cleaning and scrubbing will wait till tomorrow,
for children grow up; I've learned to my sorrow.
So quiet down, cobwebs.Dust go to sleep
.I'm rocking my baby and babies don't keep."