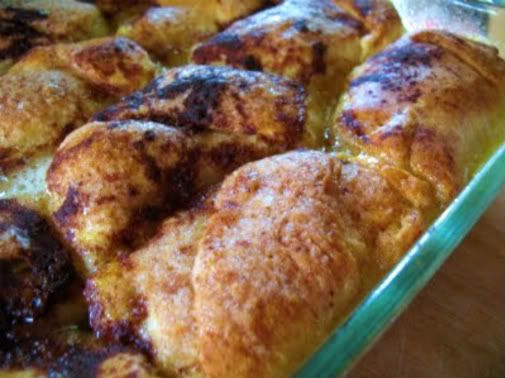 This is a creation is out of my husbands dreams. I don't know how many thousands of dollars I have spent on Diet Mountain Dew over our almost 10 years of marriage.
These Mountain Dew Apple Dumplings have a tale too. One trip to the cabin, that we
weren't able to go to, my Sister-in-Law Megan made these. I didn't hear anything else about
the trip except how wonderful, fabulous, and delicious these apple dumplings were.
My Mother-in-law just raved about them. We made this recipe for our cooking group and everyone there loved them too. They are THE DEVIL!!!!! That is how good they are. I love how simple and easy they are too.
Apple Dumplings

2 medium Granny Smith apples
2 cans crescent rolls
2 sticks butter
1 1/2 c. sugar
1 tsp. vanilla
cinnamon (for sprinkling)
12 oz. (1 can) Mountain Dew or Sprite. This bottle is WAY too much Mountain Dew, but apparently it is no longer possible to buy a single can of soda without making a deal with the Devil himself.
-Preheat oven to 350. Spray a 9×13 pan with non-stick cooking spray. Peel apples and cut into 8

ths

. This is where I started breaking rules because I'm a lazy kind of girl and if I had to hand-peel and core apples, they would never get peeled or cored. So I used my apple corer peeler (which slices the apples for me),
cut the cored, peeled, sliced apple in half, and then divided each apple into 8

ths

.
-Open a can of crescent roll dough and carefully separate the dough along the perforations. Place 1/8 of an apple on one segment of dough
and then roll/wrap the apple in the dough. Place in the prepared pan and repeat with remaining apples and dough. Set aside.
-In a medium saucepan, melt butter and add sugar and vanilla. Stir to combine. Pour butter/sugar mixture over the apples, then pour the can of Mountain Dew (or Sprite, although I've never actually tried it), on top of everything. Sprinkle the pan with cinnamon and bake for 40 minutes.
-When the dumplings are done, remove from oven and serve with a

ladle-ful

of sauce. I usually plan on two dumplings per person, before they go back for seconds. And then breakfast. Then second breakfast. Then a little snack. For true transcendent awesomeness, serve with a scoop of vanilla ice cream.
Recipe from Our Best Bites