A hero is someone who has given his or her life to something bigger than oneself.
This Memorial Day I hope we really truly give thought to those who have sacrificed so much so that we can be free. What a priceless gift we have been given.
Food for me has always been a way to honor a given occasion. There is just something about a good meal that warms the soul. Enjoy this luscious array of food that I have collected. These recipes all look absolutely mouth watering and will add the
perfect touch to your Memorial Day Celebrations!!!!
Made Famous By Sunny Anderson
Ingredients
For the Pork Sandwiches:
1/2 cup spicy brown mustard
1/4 cup honey
Kosher salt and freshly ground pepper
1 tablespoon Hungarian paprika
3 cloves garlic, minced
1 7-to-9-pound bone-in pork shoulder, skin removed
10 crusty rolls, split
Coleslaw, for serving
For the Barbecue Sauce:
2 tablespoons unsalted butter
2 tablespoons extra-virgin olive oil
4 medium onions, chopped
Kosher salt and freshly ground pepper
8 cloves garlic, minced
1 teaspoon Hungarian paprika
1/2 cup packed light brown sugar
1 cup apricot preserves
1 cup ketchup
2 teaspoons hot chili sauce (such as Sriracha)
2 teaspoons apple cider vinegar
Directions
Prepare the pork: Combine the mustard, honey, 1 teaspoon salt, 1 tablespoon pepper, the paprika andgarlic in a bowl. Prick the pork on all sides (including the fat) with a paring knife, about 1/2 inch deep. Brush all over with the mustard mixture. Tightly wrap with plastic wrap and refrigerate at least 6 hours.
Unwrap the pork, place in a roasting pan and bring to room temperature. Meanwhile, preheat the oven to 250 degrees F.
Transfer the pork to the oven and pour 1 inch hot water into the pan. Cook 3 hours, adding water as needed to maintain 1 inch.
Remove the pan from the oven, add water if needed and cover tightly with foil. Return to the oven and cook 6 more hours. Turn off the oven and let the pork rest inside, about 1 hour.
Meanwhile, make the sauce: Melt the butter with the oil in a large skillet over medium heat. Add the onions, season with salt and pepper and cook, stirring occasionally, until tender, 6 to 8 minutes. Add the garlic and paprika and cook 2 to 3 more minutes (reduce the heat if the garlic starts to brown). Stir in the brown sugar, preserves, ketchup and chili sauce, stirring after each addition. Bring to a simmer, then stir in the vinegar. Add salt to taste.
Remove the pork from the oven and take the meat off the bone. Coarsely shred the meat using 2 carving forks. Toss with some of the barbecue sauce and pan juices and season with salt and pepper. Serve on rolls with coleslaw.
Pasta Caprese
Made Famous By Joe and Jill Biden
Ingredients
1/3 cup extra-virgin olive oil
1/4 cup fresh lemon juice
1 shallot, minced
1 small clove garlic, minced
Kosher salt and freshly ground pepper
1 teaspoon sugar (optional)
2 pounds mixed heirloom tomatoes, cored, seeded and cut into 1/2-inch pieces
1 pound pasta, such as campanelle, penne or fusilli
12 ounces fresh mozzarella cheese, cut into 1/2-inch pieces
1/2 cup chopped fresh basil
1/2 teaspoon grated lemon zest
Directions
Whisk the olive oil, lemon juice, shallot and garlic in a large bowl. Season with salt and pepper. Add sugar, if desired (depending on the sweetness of your tomatoes). Add the tomatoes and gently toss.Marinate at room temperature, about 15 minutes.
Meanwhile, bring a large pot of salted water to a boil. Add the pasta and cook as the label directs. Drain in a colander and run under cold water to stop the cooking.
Add the pasta and mozzarella to the tomato mixture and toss. Stir in the basil and lemon zest, and season with salt and pepper. Refrigerate, tossing occasionally, until serving.
Pizza Skewers with Garlic Butter Dipping Sauce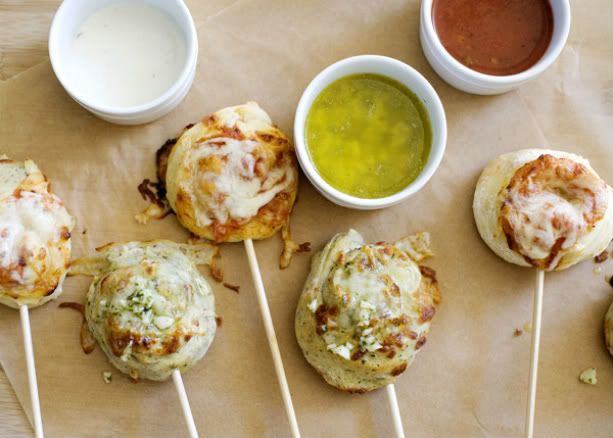 skewers (I found corn dogs skewers that were sturdier and worked perfectly) 1/2 cup flour for rolling pizza dough (I used 2 Trader Joe's premade crusts) 1 jar pizza sauce 2 cups grated Mozzarella cheese 2 sticks butter 1/4 cup garlic cloves minced
Roll out your pizza dough into a 12-inch square. Mine is not so much a 12-in
ch square, but you get the idea. Spread some pizza sauce and cover with cheese. Roll the pizza just like you would a cinnamon roll.
Cut the log into 1-inch slices and place on a lightly greased cookie sheet or one lined with parchment.
Bake in a preheated 425 degree oven for 12 minutes. Take the pizza rolls out and top with another spoonful of sauce and some extra cheese. Matt mixes his leftover sauce and cheese together, but I did not follow directions. Bad girl. Put the pizza rolls back into the oven for an additional 5 minutes or until the cheese is golden.

You want to try the pesto version? Just swap out prepared pesto for spaghetti sauce. And no, you still cannot have any of the burnt cheese bits. All mine.
Insert a skewer and you are in business. My house smelled so garlicky that I was distracted and forgot to take a picture of the garlic butter sauce. Melt the butter over low heat in a saucepan until it melts. Pour the butter through a fine mesh sieve and throw the solids away. Put the butter back into the saucepan and add the minced garlic. Simmer over medium-low heat for 20 minutes.

I also served mine with ranch and extra red sauce.
Chocolate Chip Cookie Dough Cheesecake Bars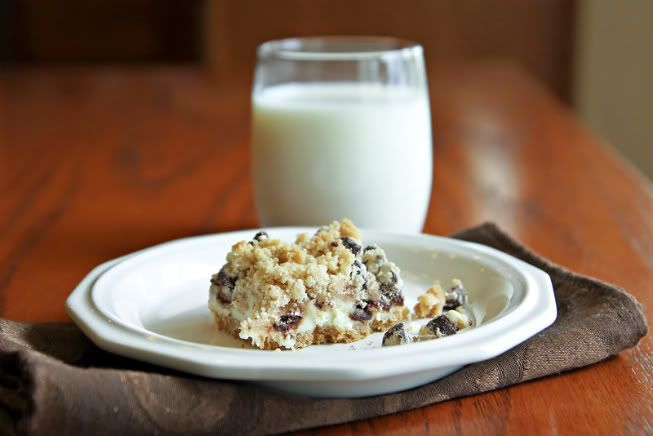 Ingredients
Crust:
1 1/2 cups graham cracker crumbs
5 tablespoons unsalted butter, melted
Chocolate Chip Cookie Dough:
5 tablespoons unsalted butter, room temperature
1/3 cup packed brown sugar
3 tablespoons granulated sugar
1/4 teaspoon salt
1 teaspoon vanilla
3/4 cup flour
1 cup chocolate chips
Cheesecake Filling:
1 (8 oz.) package cream cheese, room temperature
1/4 cup sugar
1 large egg
1 teaspoon vanilla
Directions
Preheat oven to 325 degrees. Line an 8 inch square baking pan with parchment paper or foil allowing a little overhang; spray with nonstick cooking spray. Set aside. Mix the melted butter and graham cracker crumbs until thoroughly combined. Press the mixture into the bottom of the prepared pan. Bake in preheated oven for 6 minutes. Remove pan to a cooling rack. Do not turn your oven off.
While the crust is cooling, prepare the chocolate chip cookie dough. With an electric mixer, beat butter, brown sugar, granulated sugar, salt and vanilla until smooth and thoroughly combined, about 1 minute. Mix in the flour on low speed, until just incorporated. Stir in the chocolate chips. Set aside.
In a large bowl, beat together the cream cheese and sugar with an electric mixer until smooth. Mix in the egg and vanilla on low speed just until incorporated. Pour the cheesecake batter into the prepared crust. Sprinkle the cookie dough onto the top of the cheesecake batter in teaspoon-sized clumps. Bake for about 30 minutes, until the top feels dry and firm. Move bars to a cooling rack and allow to cool completely. Lift the bars out by the overhang; cool and then slice into desired size. Serve cold or at room temperature. Keep leftovers refrigerated.
Let's Dish
Two of the best desserts ever--chocolate chip cookies and cheesecake--in one yummy bar. It's pure genius! My family raved about how good these were. They all asked for seconds, although they were a bit too rich (in a good way) for me to have two servings back to back. I may or may not have had my second helping for breakfast.
Patriotic Berry Trifle
Made Famous By Sunny Anderson
Ingredients
1/4 cup plus 2/3 cup sugar
1/4 cup fresh lemon juice
1/4 teaspoon almond extract
1 premade angel food cake, cut into 1-inch slices
1 pound cream cheese, at room temperature
2 cups heavy cream, at room temperature
2 pints blueberries
2 pints strawberries, hulled and sliced
Directions
Heat 1/4 cup sugar, the lemon juice and 1/4 cup water in asaucepan over medium-high heat, stirring, until the sugar dissolves. Remove from the heat and stir in thealmond extract.
Brush both sides of each slice of cake with the syrup. Cut the slices into 1-inch cubes.
Beat the remaining 2/3 cup sugar and the cream cheese with a mixer on medium speed until smooth and light. Add the cream and beat on medium-high speed until smooth and the consistency of whipped cream.
Arrange half of the cake cubes in the bottom of a 13-cup trifle dish. Sprinkle evenly with a layer of blueberries. Dollop half of the cream mixture over the blueberries and gently spread. Top with a layer of strawberries. Layer the remaining cake cubes on top of the strawberries, then sprinkle with more blueberries and top with the remaining cream mixture. Finish with the remaining strawberries and blueberries, arranging them in a decorative pattern. Cover and refrigerate 1 hour.