Made famous By: Kendra Beery
I am in the whole loaf club with this delicious bread.
Any of you ever done that???
By that I mean eat an entire loaf of bread by yourself?
I just can't help it. Carbs and I have forever been best friends so when I find a loaf
of bread that is irresistible I gobble it down until I can't fit any more in.
In this case it was the entire loaf.
I wish I could say that this was the only time that it has happened.
The other wonderful thing about this wheat bread is that my
wonderful, amazing, beautiful sister Kendra Beery made it.
I am so lucky to have a sister like her. She is my "favorite" in every way.
Not to mention she has the cutest kid on the whole planet.
Love you Sissy!!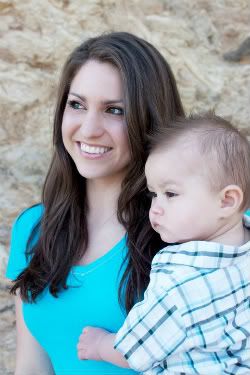 5 cups hot tap water
1/3 Cup Coconut oil
2 TBS Saf-instant yeast
2 TBS Vital Wheat Gluten Flour (Walmart, Oswego)
10-12 cups Whole Wheat Flour or 1/2 white and 1/2 wheat flour
1 TBS Salt
3/4 CUP Honey
1 TBS Dough enhancer (whole foods, a health food store)
Using a bread mixer (not a bread machine): add the water. salt, wheat gluten, oil, honey and half the flour. Mix until blended and the dough resembles a thick pancake batter, then add the yeast and the rest of the flour just until the dough cleans the sides of the bowl (It will still be REALLY sticky. Not like regular bread dough). The dough will be sticky. Be careful not to add too much flour, as it will dry out the bread. Cover and let machine knead for 5 minutes. Remove the dough hook, cover and let rise for 10-15 minutes. Oil your cutting board or mat and lightly oil your hands. Turn the dough out onto the board and divide/shape into 4 loaves. Do not over-work the dough. Let rise once more for 30 minutes and small loaves for 22 minutes. Makes 4 1lb loaves
Right after you take it out of the oven brush with butter to ensure that the top does not get hard.
1/4 Pound unsalted butter at room temperature
3 TBS Good quality honey
1/4 tsp Ground Cinnamon
1/8 tsp Kosher Salt
(This will fit into a Kitchen-aid mixer.)
2 1/2 cups hot tap water
2tbs Coconut oil
1 TBS Saf-instant yeast
2 TBS Vital Wheat Gluten Flour (Walmart, Oswego)
5-6 cups Whole Wheat Flour or 1/2 white and 1/2 wheat flour
1 1/2 tsp Salt
6 TBS Honey
1 TBS Dough enhancer (whole foods, a health food store)