Made Famous By: Sue
Eudis
and
Wende
Minadeo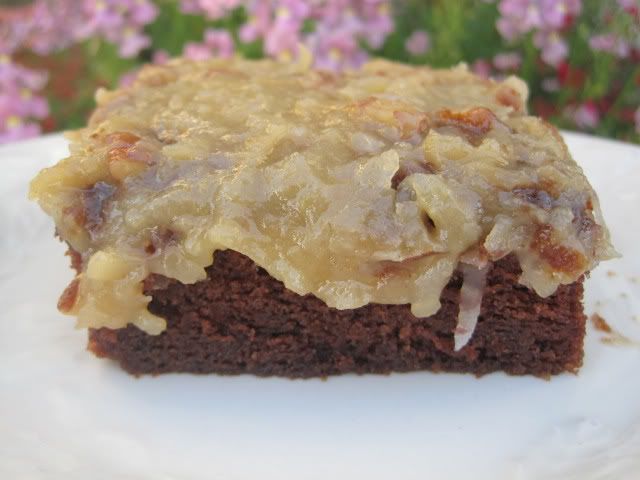 My Mom's birthday was on Saturday and one of her favorite things that I make is German Chocolate cake. So I had to make it for her birthday. This recipe is so much fun to make. The best part is folding in the fluffy egg whites at the end.
1 pkg (4oz) Bakers's German's Sweet Chocolate
1/2 C Water
2 C Flour
1tsp Baking Soda
1/4 tsp Salt
1 C (2 sticks) Real Butter, softened
2 C Sugar
4 Eggs, separated
1 tsp Vanilla
1 C Buttermilk
Coconut-Pecan Filling and Frosting
Preheat oven to 350 Degrees. Cover bottoms of 3 (9-inch) round cake pan with wax paper; grease sides of pans. **I just used a 9x13 pan. It is easier.** Microwave chocolate and water in large microwaveable bowl on HIGH 1-1/2 to 2 min. or until chocolate is almost melted, stirring after 1 min. Stir until chocolate is completely melted.
Mix flour, baking soda and salt; set aside. Beat butter and sugar in large bowl with electric mixer on medium speed until light and fluffy. Add egg yolks, 1 at a time, beating well after each addition. Blend in melted chocolate and the vanilla. Add flour mixture alternately with the buttermilk, beating until well blended after each addition.
Beat egg whites in small bowl with electric mixer on high speed until stiff peaks form. Gently stir into batter. Pour evenly into prepared pans.
Bake 30min or until toothpick inserted in center comes out clean. Immediately run small metal spatula around cake layers. Cook in pans for 15 minutes; remove layers from pans to wire racks. Discard wax paper. Cool cake layers completely. Spread Coconut-Pecan Filling and frosting between cake layers and onto top of cake.
If you used a 9x13 pan cool cake completely and then pour frosting over top.

4 Egg Yolks
1 can (12oz) Evaporated Milk
1 1/2 tsp Vanilla
1 1/2 C Sugar
3/4 C (1 1/2 sticks) Real Butter
1 pkg. (7oz) Bakers' Angel Flake Coconut (about 2 2/3 Cups)
1 1/2 C Chopped Pecans
Beat egg yolks, milk and vanilla in large saucepan with wire whisk until well blended. Add sugar and butter; cook on medium heat 12 min or until thickened and golden brown, stirring constantly. Remove from heat.

Add coconut and nuts; mix will. Cool to desired spreading consistency.
I also had my sister in law bring over some Mulligatawny Soup. Strange name and I am not sure I pronounce it correctly......ever.....but it is so delicious. I can't even explain to you how delicious this soup is. I have posted both of these before, but when I just have to shout it from the roof tops when I eat stuff this good!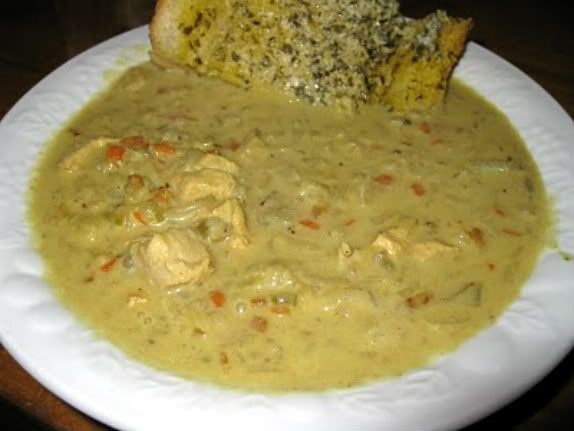 Mulligatawny Soup
1 C Chopped onion
4 Stalks Celery, chopped
2 Carrots
1/2 C Butter
3 TBS All-

purpose

Flour
4 tsp. Curry Powder
8 C Chicken Broth
1 Apple, cored and chopped
1/2 C Jasmine long grain white rice
2 skinless, boneless Chicken breast halves-uncooked cut into cubes
Salt and Pepper to taste
2 pinches of Dried Thyme
1 C Heavy Cream, Heated

**Two big tips before starting to cook this soup**
1-Chop everything really small
2-Follow the amounts of everything exactly. One time I added more curry because I really really like it and....it tasted bad. The amount of curry is

precisely

enough.


Directions:
Saute onions, celery, carrot, and butter in a large soup pot.
In a small cup mix the flour and curry together then add it to the veggies and cook for 5 more minutes.
Add chicken stock, mix well, and bring to a boil. Simmer about 30 minutes.

Add apple, rice, chicken, salt, pepper, and thyme. Simmer another 20-30 minutes, or until rice is done.

When serving, add HOT cream to the pot.