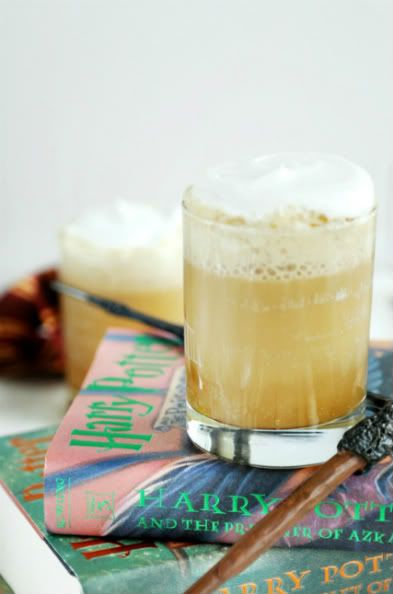 Say what????? I didn't even know that this stuff really existed!!!!!!!!!!!!!!!!!!!!!
How dare I call myself a Harry Potter fan. (*slapping myself on the hand*)
Oh my goodness! I cannot even describe the level of excitement when I found out that butterbeer actually existed. Now I can sip on some and pretend I am a wizard.......ok......maybe I wouldn't go that far, but I am super excited to try it when I get better.
How did you find this out you ask? Well I was reading
Confessions of a Cookbook Queen
and she made Butterbeer cupcakes and I thought what a wonderful idea. Then I clicked on the web site that gave her the inspiration,
Dine and dish
, and my eyes were thus opened.
WOOOOOO HOOOOOOOO! I highly suggest you give this stuff a try.
Recipe: Butterbeer (from Fox News)
1 cup light or dark brown

sugar

2 tablespoons water
6 tablespoon butter
1/2 teaspoon salt
1/2 teaspoon cider vinegar
3/4 cup heavy cream, divided
1/2 teaspoon rum extract
Four 12-ounce bottles cream soda
In a small saucepan over medium, combine the brown sugar and water. Bring to a gentle boil and cook, stirring often, until the mixture reads 240 F on a candy thermometer.
Stir in the butter, salt, vinegar and 1/4 heavy cream. Set aside to cool to room temperature.
Once the mixture has cooled, stir in the rum extract.
In a medium bowl, combine 2 tablespoons of the brown sugar mixture and the remaining 1/2 cup of heavy cream. Use an electric mixer to beat until just thickened, but not completely whipped, about 2 to 3 minutes.
To serve, divide the brown sugar mixture between 4 tall glasses (about 1/4 cup for each glass). Add 1/4 cup of cream soda to each glass, then stir to combine. Fill each glass nearly to the top with additional cream soda, then spoon the whipped topping over each.