Made Famous By: Heather McMullin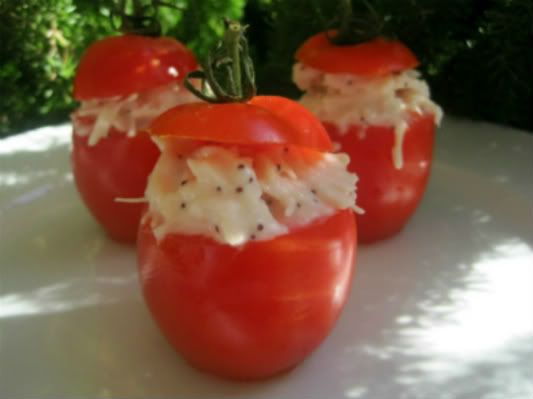 I am OBSESSED with Briannas Poppy Seed Dressing.
I have been for as long as I can remember. I think it all started in college sometime. I use it
as my go to dip. I would rather have over most any other condiment.
One blissful day I came across the idea to use it in chicken salad.
This jazzes it up with out having to mix up a million different ingredients.
Give it a try. I guarantee you will love it as much as I do.
It would make a great addition to your 4th of July spread as well!!
Poppy Seed Chicken Salad in Tomato Cups
1 bottle Briannas Poppy Seed Dressing
1-2 cans Costco Canned Chicken
-Cut a little of the bottom of each tomato off then cut the top of each tomato off and hollow them out.
-Mix the poppy seed dressing into the canned chicken until your desired wetness.
-Fill each tomato with the poppy seed and chicken mixture.
**Get fun with it. Add some of your favorite ingredients to jazz it up!!**