Made Famous By: The

McMullin

Family/Aunt Zora

Why do I have these beans first? Simply because they are the best beans that I have ever tasted in my life.

I got lucky, I married into them. Such wonderful perk!!!

They work perfectly

for all types of gatherings.

Especially the 4

th

of July.

I don't think Aunt Zora knows how famous she truly is.

It is her

recipe and everyone who has ever tried these beans begs for the recipe. So there you go friends.

My gift to you for the 4

th

of July!!
Recipe:
MM Sandwich, Adorned
Or you can dress it up like this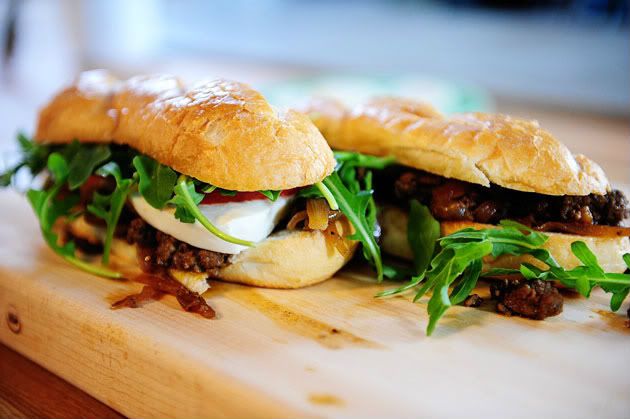 Looks like the perfect 4

th

of July

sammy

.
Ingredients
2 whole Medium Onions, Halved And Sliced
1-1/4 stick Butter
2 pounds Cube Steak, Cut Into 1/2-inch Strips
1 teaspoon Kosher Salt
1 teaspoon Black Pepper
1/4 cup Worcestershire Sauce
5 dashes Tabasco Sauce
4 whole Deli Rolls (crusty), Split
8 slices (thick) Fresh Mozzarella
8 slices (thick) Ripe Tomato
1-1/2 cup Arugula
Preparation Instructions
Season meat with salt and pepper. Set aside.
Melt 1/3 stick of butter in a heavy skillet over medium-high heat. Cook onions for several minutes, until golden brown. Remove to a separate plate and set aside.
Return skillet to stove and increase heat to high. Add another 1/3 stick of butter. When melted, add meat to pan in a single layer. Do not stir. Allow meat to sit, undisturbed, for a minute in order to brown. With a spatula, flip meat to the other side and allow to brown. Reduce heat to low. Add onions back into pan, then add Worcestershire, Tabasco, and remaining 1/3 stick of butter. Stir and allow to simmer, adding more Worcestershire or Tabasco as desired.
Melt 1/2 stick of butter on griddle or in a separate skillet. Place roll halves, cut side down in butter and brown over medium-low heat until golden brown.
To serve, spoon meat/onion mixture over bottom half of rolls. Spoon 1-2 tablespoons pan juice over the top. Lay two mozzarella slices on each sandwich, followed by two tomato slices. Top with a generous amount of arugula, then press the top half of the roll on top. Cut in half and serve immediately.
Fruit Pops
No recipe. This is just a fun idea I wanted to share for a red, white and blue 4th of July dessert. Enjoy!
A few notes:
To make these, I used watermelon, apples and blueberries.
To keep the apples from browning, lightly brush them with lime or lemon juice. I prefer limes for their flavor and they seem less tart.
Cut watermelon and apple pieces to thickness of the cookie cutter, then place cookie cutter on top of slices and push straight down. Place one fruit inside of another and finish with a blueberry in the middle.
Push straw through all three pieces of fruit to keep it everthing in place. If you have some trouble pushing a paper straw through the apple portion, use a plastic straw first to create a pathway and then replace with a paper straw. Alternately, popsicles sticks will just as well.
Cucumber Buttermilk Salad Dressing with Homemade Healthy Croutons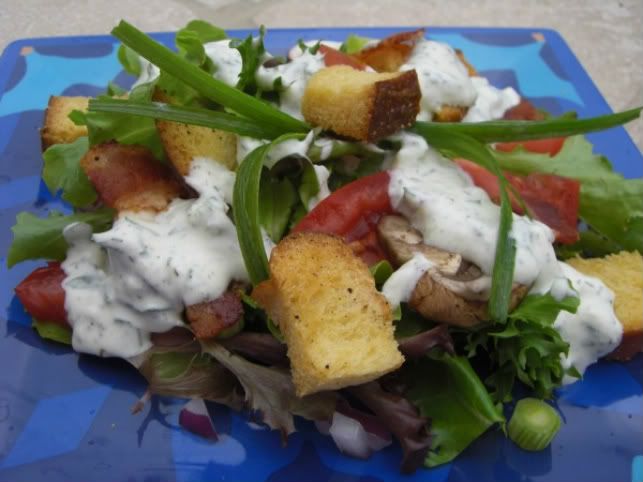 This easy recipe for Cucumber Buttermilk Salad Dressing with Homemade Healthy Croutons makes close to 2 cups so there is plenty for a big salad and leftovers for the next night. You could use it as a dip for a veggie platter or to serve on the side with some grilled meat or fish.
Whenever I make this salad dressing, everyone including the kids, licks their plate and goes back for seconds. It has a great fresh flavor and can be used in so many ways. See my Cook's Notes at the bottom of the page for healthy tips, serving suggestions and even a "Sugar Secret" for homemade healthy croutons.
Ingredients:
A handful of fresh parsley, chopped or 3 tablespoons dried
3 cloves of garlic chopped
½ of a cucumber, seeds removed and chopped
A handful of fresh dill, chopped or 1½ tablespoons of dried
¼ cup apple cider vinegar
¼ cup buttermilk
1 cup sour cream or Greek yogurt
¼ cup olive oil
1 teaspoon of sugar
Salt and pepper to taste
Directions:
Put the garlic, herbs and cucumber in a small food processor or hand chopper and chop for a minute. If you don't have one, just hand chop the ingredients into fine pieces and add to a bowl. Add in the rest of the ingredients and stir well to combine. Add salt and pepper to taste. Put dressing in the refrigerator in a covered dish or Tupperware until ready to use. Dressing will last in the fridge for a few days so don't be afraid to make this ahead of time. The flavors get better when it sits.
Cook's notes:
If you make this dressing ahead of time you may find that when you take it out of the fridge to use it, it may seem very thick. You can add a little more buttermilk to thin it out or some extra virgin olive oil and adjust the salt and pepper. It is supposed to be chunky so don't thin it too much.
I like to serve this salad with all types of greens, veggies, and red or green onions. It also works great with some bacon, apples and nuts. I brown up some bacon and make some homemade croutons to go over the top. You can use turkey bacon if you want a leaner version. Don't be afraid to get creative.
How to make Homemade Croutons:
OK so you are saying — why would you make homemade croutons??? Well, the ones you buy in the store contain a ton of preservatives and additives that I don't want to eat. Plus, they can be expensive and most of the time we all have extra bread in the house. Once you make these you will see how simple and delicious they are. The whole house will smell like toasted bread and make everyone come running to the kitchen.
Remember, the goal of my site is to get you cooking with "Sugar." That means cooking with Love, so every now and then we throw some special "Love" into our food. When you cook with "Sugar" everything taste better.
To make homemade croutons:
Preheat the oven to 400 degrees
Cut up a few slices of any bread of your choice into 1-inch cubes. For all my Fit Fans out there you can even use Ezekiel bread. Toss the bread cubes in a bowl with a good sprinkle of olive oil. Once in a while I use a tablespoon or two of olive oil and melted butter. Toss with a spoon gently, being careful not to break up the bread. Once the cubes are lightly coated with the oil, spread the cubes onto a cookie sheet and make sure they aren't crowded. Sprinkle with salt, pepper, and any seasoning you like. I sometimes use onion powder, garlic powder, or even chili powder. Bake in the oven for about 5-10 minutes or until golden brown. Transfer to a plate and set aside until ready to use.
If you are lucky they will make it to the salad but if your house is like my house everyone picks at them before dinner is ready and most of them get gobbled up. You may want to keep that in mind and make a big batch. If you have extra they will keep in a Ziploc for the next day.
Fabulous Blue Candy Apples
Made Famous By: Tidy Mom

Supplies for Blue Candy Apples
(click items to find them online)
Apples – I used Granny Smith, but any firm tart apple will work.
Sugar & water (per instructions on bag)
Large pot for making candy coating
wooden spoon for stirring
2 small bowls for sprinkles
cooking sheet to place covered apples on
Prepare your apples and kitchen/supplies:
Wash and dry apples and remove stems
Line baking sheet with waxed paper and spray heavily with non-stick spay (you will place coated apples on this)
Pour Sprinkles into one bowl. (leave one bowl empty)
Make Candy Apples
one bag of Candy Apple Magic can coat up to 100 apples – so I only used 1/2 of the package.
Combine 1/2 package of Blue Raspberry Candy Apple Mix with 2.5 pounds granulated sugar and 1 cup water in large sauce pan over medium heat stirring until sugar is dissolved
Place candy thermometer on pan (not touching bottom of pan)
Increase heat to medium high heat, do NOT stir and cook until candy thermometer reaches exactly 250° F. This took about 15 mins, but can be different according to your stove, so watch carefully. (NOTE: the package say 300° you doNOT want to cook to 300° or your candy will be too hard)
When temp reaches 250° remove pan from heat and dip apples working quickly. * BE VERY CAREFUL candy coating is very hot and will burn your skin
I sprinkled each apple right after dipping – I held the freshly dipped apple over an empty bowl while showering with sprinkles. (I had to work very quickly, as they did not want to stick well )
Place on lined & greased pan and continue with rest of the apples.
Place in refrigerator to cool.
Once your apples have cooled, you can eat and enjoy! Make sure to eat them within three days of making them, and I would recommend storing in the refrigerator. We left ours out over night in the air conditioned house and they melted quite a bit.




4th of July Chocolate Peanut Butter Marshmallow Pops

makes 24 pops

24 regular sized Marshmallows (1 bag)

24 sucker sticks

1 1/4 cup creamy peanut butter

1 cup milk chocolate chips

1 cup white chocolate chips

1-2 tbs Crisco (optional)

Two small bottles (or one large) Patriotic Red, White, and Blue Sprinkles

1. Line two cookie sheets with wax paper.

2. Spread about 1 tsp of peanut butter all along the sides of the marshmallows. It might get messy:) Lay marshmallows on one of the cookie sheets lined with wax paper. Place in the freezer 30 minutes.

3. Meanwhile, in a microwave safe bowl, melt your milk chocolate chips, microwaving on high for 60 seconds and stirring every 30 seconds. I like to stir in a little bit of Crisco to thin the chocolate a bit. Do the same with your white chocolate chips.

**I transferred my melted chocolate into a tall glass to make dipping easier.

4. Remove marshmallows from the freezer. Place a sucker stick in the bottom of a marshmallow, dip in chocolate just until it covers the bottom of the mallow. Try not to get it all over the stick. Shake or "spin" any excess chocolate off.

5. Cover with sprinkles and lay on wax paper. Alternate dipping marshmallows in milk chocolate and white chocolate.

Tip: Try to work quickly so the peanut butter doesn't get too soft. This is where it comes in hand to have little helpers! Or you can keep half of the mallows in the freezer while you work on the first half.

Enjoy, and Happy Fourth of July!