Made Famous By: The Sister's Cafe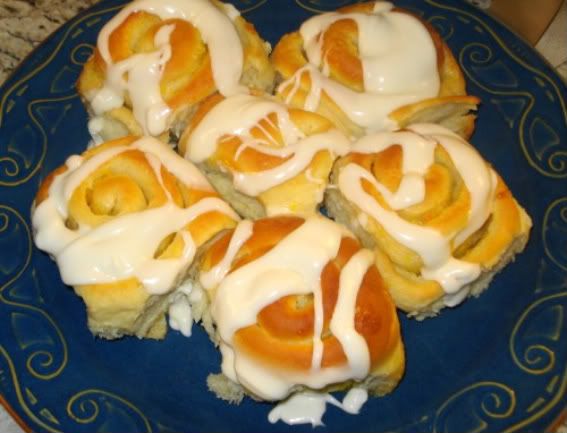 "I can tell you they are wonderful! They are soft and fluffy with a mellow, sweet taste of orange. The cream cheese icing is delicious – a perfect complement to the citrus flavor. I actually make them with lemon juice, zest, or extract sometimes as well. Any combination of orange and lemon is wonderful. My husband is not a big cinnamon roll lover but he raves about these! His favorite part is how the butter and sugar melt together to form a sticky sweet bottom to the rolls. Yum! I have to say my favorite thing, beside the fabulous taste, is how pretty they look. These orange rolls are perfect to serve at summer brunches or baby showers."-The Sisters Cafe
Lehi Orange Rolls
1/3 cup warm water
2 Tb yeast
3 eggs
1 tsp orange extract
1 cup warm water
1 tsp salt
1/3 cup sugar
1/2 cup oil
5 1/2 – 7 cups flour, divided
1 cup butter, softened, divided
1 1/3 cup sugar, divided
zest of 2 oranges
Dissolve yeast in 1/3 cup very warm water. Add eggs and beat. Add orange extract, 1 cup warm water, salt, 1/3 cup sugar, oil, and 4 1/2 cups flour. Beat. Add 1/2 to 1 cup flour and knead for several minutes. Place dough in greased bowl and cover with greased plastic wrap. Put in a warm place and let rise for 1 hour, or until doubled.
Knead dough 5 or 6 times. Divide in half. Cover and let rest for 10 minutes. Roll each half out into a narrow and long rectangle, about 1/2 inch thick. Spread with softened butter, remaining sugar, and orange zest. Roll up lengthwise and pinch to seal edge of dough. Cut rolls about 1 1/2 inches thick. Place in a greased pan fairly close together and cover with greased plastic wrap. Let rise for 1 hour in warm place. Bake at 350 degree for 12 to 17 minutes. Don't overbake. Let cool slightly, then ice with orange cream cheese icing.
Orange Cream Cheese Icing
1/2 package of cream cheese (4 oz.), at room temperature
1 Tb butter, softened
1/2 package of powdered sugar (about 3 cups)
2 Tb orange juice
1/2 tsp vanilla extract
1/2 – 1 tsp orange extract, to taste
Beat all ingredients together. Add more orange juice, if necessary, for drizzle consistency. Use over orange rolls.