Once each week this summer I am going to do a summer party menu because I believe
that every day of summer should be celebrated. It is a time to kick off your real shoes
and hang in flippies (flip flops), go to the beach and let your hair down.
That and good refreshing food to accompany summer fun.
If you would like to be included in my Summer Bash round up each week email me at madefamousby@gmail.com. I would love to have your recipe on one of my posts!!!!
Tortellini With Peas is the perfect light and easy main dish for a summer bash.
Um.......how cute are THESE!!!! I am dying over here at how cute these are!!
And for Dessert these lovely Strawberries and Cream Bars
Made Famous By one of my favorite bloggie friends Val So Cal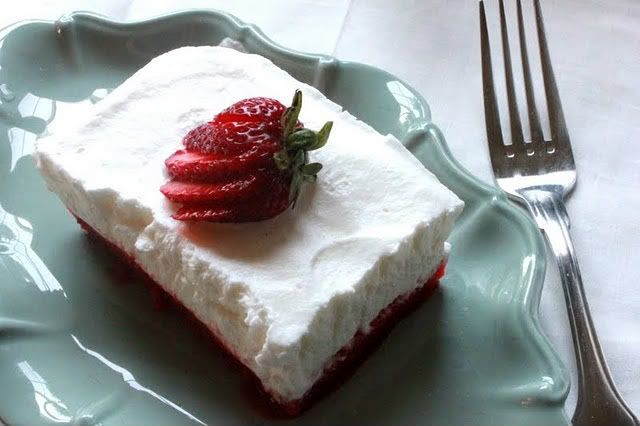 Strawberries and Cream Bars

2 pounds of strawberries, hulled and halved. (6 cups)
1 1/2 cups sugar
coarse salt
7 large egg whites
2/3 cup cold heavy cream
1 teaspoon vanilla

1) In a blender, combine strawberries, 3/4 cup sugar, and a pinch of salt and
puree until smooth. Pour into a 9 x 13 inch baking dish. Transfer to freezer
and scrape with a fork every 30 minutes until mixture is thick and slushy,
2 hours. Smooth top with rubber spatula.
2) In a large bowl, using an electric hand mixer, beat egg whites on high
until foamy. With mixer on medium, gradually add 3/4 cup sugar. Increase
speed to high and beat until stiff, glossy peaks form, 3 minutes. In another
bowl, beat cream and vanilla on high until stiff peaks form, 1 to 2 minutes.
With a rubber spatula, gently fold whipped cream into the egg white mixture.
Pour over strawberry mixture and smooth with rubber spatula. Freeze until
firm, about 4 hours. Makes 12 bars. Everyday Food.