Made Famous By: Clean Eating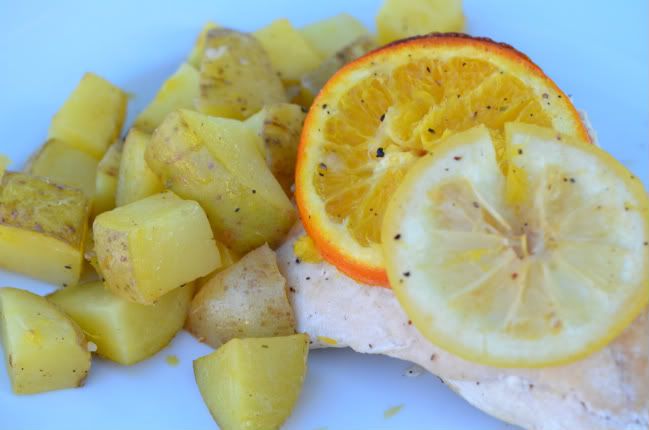 I took my kiddos to Disneyland yesterday.
Can I just say that Disneyland is ZERO fun when it is 100 degrees outside! I don't even think my kids enjoyed it as much as they usually do. Mr. Potato Head on the new Toy Story ride was complaining about how hot it was too. It really makes me sad that I had these feelings for the happiest place on earth. Note to self....look up the weather before going to Disneyland....
On the bright side I did get to spend the whole day with my babies. I miss them now that they are back to school. Does any one else miss their kids when they are at school? The older my babies get the more their personalities shine. Each one of my kids are so different and amazing. One of the reasons that I love being a Mom is that I get to see each of their personalities blossom each and every day. After all we are growing people.
Here is another sneak peek recipe from Clean Eating!! This skillet roasted chicken is the perfect dish to celebrate squeezing every last drop out of summer....even in 100 degrees!
Skillet-Roasted Chicken Breasts with Citrus Roasted Potatoes
Serves
4. Hands-on time: 20 minutes. Total time: 50 minutes.
Size of 1 serving:
1 chicken breast and ¾ cup potato mixture
Olive oil cooking spray
1 lb red, white or Yukon Gold potatoes, scrubbed well and cut into ¾-inch wedges
½ lemon, peel-on, halved, cut into thin slices and seeds removed
½ orange, peel-on, halved and cut into thin slices
2 tbsp olive oil, divided
¾ tsp fresh ground black pepper, divided
½ tsp fine sea salt, divided
4 6-oz boneless, skinless chicken breasts
2 tsp chopped fresh parsley, optional
ONE:
Arrange 1 rack in top third and 1 rack in bottom third of oven; preheat oven to 400°F.
TWO:
Spray a large rimmed baking sheet with cooking spray. In a large bowl, combine potatoes, lemon, orange, 1 tbsp olive oil, ¼ tsp pepper and ¼ tsp salt. Arrange on sheet, transfer to bottom third rack of oven and roast for 10 minutes. Remove from oven, toss and return to bottom third of oven; continue roasting.
THREE:
Meanwhile, in a large ovenproof skillet, heat remaining 1 tbsp oil on medium-high. Sprinkle both sides of each chicken breast with remaining ½ tsp pepper and remaining ¼ tsp salt. Add chicken, smooth side down, and cook until browned, about 5 minutes. Turn chicken, transfer skillet to top third rack of oven and roast until cooked through, about 8 minutes. Remove skillet from oven and transfer chicken to a platter or serving plates; cover loosely with foil and set aside. (NOTE: Skillet handle will be hot, so exercise caution when handling.)
FOUR:
Remove potato mixture from oven; toss and continue roasting until browned, about 5 minutes. Serve chicken with potato mixture; drizzle with any skillet juices and, if desired, sprinkle with parsley.